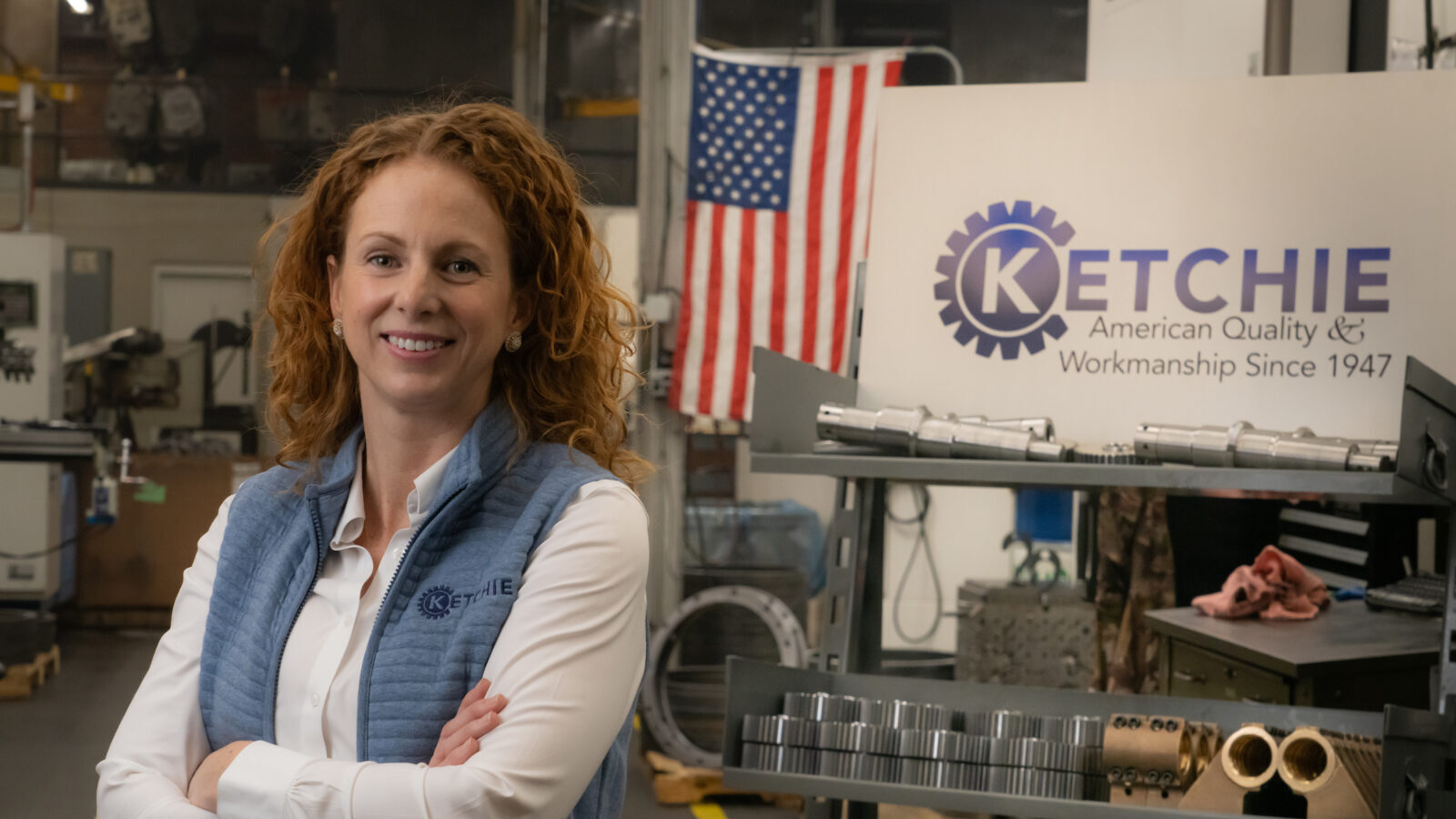 Courtney Silver runs a precision machining company that has been in business for 75 years, so she knows how fast the manufacturing industry evolves. The Ketchie, Inc., president, who serves as the vice chair of the NAM's Small and Medium Manufacturers Group, has a clear message for policymakers and manufacturers alike.
To stay competitive, "manufacturers must have policies that incentivize us to save for emergencies, like pandemics, and to use profits productively to invest in machines, technologies and people," she says.
"Small manufacturers know what to do, to invest our profits and grow"—and policymakers should let them get on with it.
We caught up with Silver earlier this fall and chatted about her plans for Ketchie, the policies that would support manufacturers' competitiveness and more.
The history: Seventy-five years ago, her late husband's grandfather came home from World War II to work in a local textile mill, Silver tells us.
The former Air Force captain quickly observed that local manufacturers needed a "job shop" to provide precision machined solutions. In 1947, he founded the company.
Since then, and through many upgrades in technology, the business has grown considerably. It now supports several industries, including "textile, rail, heavy machinery, agriculture and industrial equipment," says Silver.
In the family: Silver joined the business in 2008, then took over as president after her husband passed away in 2014. Through all her years there, she says, "investing in the lives of the people I work with and providing them with opportunities to develop and grow their God-given talents has been what matters the most" to her.
That dedication spills outward into the community. Silver and the company are deeply invested in their work with the North Carolina Manufacturing Institute, numerous local schools, the local Boys & Girls Club and the Cooperative Christian Ministries.
What do small manufacturers need? To help small manufacturers stay competitive and keep contributing to their communities, "we need a tax structure that works for us," says Silver.
The 2017 tax reform law benefited Ketchie by allowing large manufacturers to expand, meaning they had more orders for Ketchie. The company was able to hire more workers as well as provide raises and bonuses.
However, small manufacturers need further support from policymakers, according to Silver. "Smaller manufacturers have access to less capital," she explains, so they must often use their profits for crucial short-term investments, like new equipment.
But they also need help from policymakers for longer-term efforts, such as saving for emergencies (including pandemics) and using their profits to aggressively attract and retain a high-quality workforce.
The absence of a tax structure that supports all these endeavors together "hinders innovation and growth and limits our ability to compete," Silver points out.
A promising future: When asked how new technologies are helping small manufacturers innovate, Silver responds enthusiastically: "That's why I love the industry so much—the machining technology is transformational for small businesses in our industry."
Ketchie has kept up with the latest innovations throughout its history. Back in the 1980s, that meant purchasing its first CNC (computer numerical control) machines for more efficient, precise machining.
Today, it's automation. The company's first machine-tending collaborative robot will debut on the factory floor in November, taking over machinists' "least favorite" part of the job—changing parts while the machines run. The robot will free up workers for more challenging and skilled work around the shop, as well as dramatically increase productivity by running unattended after shift hours, Silver says.
Technology has "opened up" manufacturing, as she puts it. Automation, 3D printing, additive machining and more have "sped up the lifecycle from the idea to the finished part."
People first: Technology may be evolving rapidly, but the need for a high-quality workforce remains the same. When asked about her plans for Ketchie's future, Silver says that "the number-one challenge, again and again, is workforce."
Silver aspires to strengthen Ketchie's community outreach by teaching semester-long classes in the shop for high school students, which will include mentorships and a character development curriculum along with job shadowing on the shop floor.
Ketchie also plans to continue its leadership role in its community as an active member of the school program board, and by continuing to open its doors to tours, interns and apprentices.
"Making these long-term investments in our youth, in our industry and in our team is foundational to who we are, and we are thankful for all of the opportunities to help shape our future workforce in manufacturing," says Silver.
The next generation: For the president of a family company, this question must be inevitable: Will Silver's children run the business, too?
"Time will tell for sure. They both show strong leadership qualities and are interested in what we are accomplishing at Ketchie. My son has a lot of fun with a 3D printer at home, and my daughter already has excellent problem-solving skills. It's going to be interesting to see!" 
At the NAM: About her work at the NAM, Silver says, "I want to see a genuine opportunity for small and medium manufacturers to grow, thrive and successfully compete."
"Each SMM member should feel truly valued and know they have a place at the NAM. Their story, and what they do every day, matters to manufacturing in America."
View More