Press Releases
NAM's Timmons Discusses Record Manufacturer Optimism on Fox Business
Timmons Touts New Quarterly Survey Results, Says "Manufacturers Are Going To Deliver" On Their Promises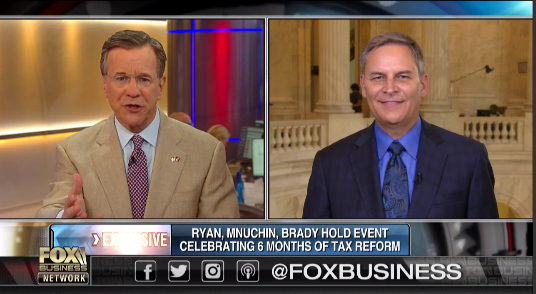 Click Here to Watch the Interview
Timmons On Record Manufacturer Optimism Following Tax Reform
We've been working for 30 years to enact comprehensive tax reform and regulatory relief. We got that done and now seeing the results from it. So, as you said, a 20-year high in our quarterly survey … [A]nd in exchange, we promised that we would hire new workers. We would invest in plants and equipment here in the United States and raise wages and benefits. We're seeing the results of that. In fact, 86 percent of our members say that they will invest in new plants and equipment, 77 percent say they are hiring new employees and 72 percent say they're raising wages and benefits. We have to keep our word to the American people or else this exercise was for not.
Timmons On Tax Reform's Critics
I get that there are skeptics out there, and I think it's healthy in a democracy to question the policies that are enacted. But I can tell you this: manufacturers are going to deliver. In the last six months, we created 115,000 new jobs. That is double what it was over the course of the last year. All I can say is watch us work.
Yesterday, the NAM released the results of the Manufacturers' Outlook Survey for the second quarter of 2018, which showed 95.1 percent of manufacturers have a positive outlook for their companies—an all-time record in the survey's 20-year history—following enactment of the Tax Cuts and Jobs Act.
-NAM-
The National Association of Manufacturers (NAM) is the largest manufacturing association in the United States, representing small and large manufacturers in every industrial sector and in all 50 states. Manufacturing employs more than 12 million men and women, contributes $2.25 trillion to the U.S. economy annually, has the largest economic impact of any major sector and accounts for more than three-quarters of private-sector research and development. The NAM is the powerful voice of the manufacturing community and the leading advocate for a policy agenda that helps manufacturers compete in the global economy and create jobs across the United States. For more information about the Manufacturers or to follow us on Shopfloor, Twitter and Facebook, please visit www.nam.org.
View More